New Version of Iconic Cagnazzi/Berger COPO Camaro Slated to Dominate Race Tracks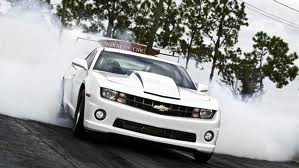 Legendary drag racer and team owner Victor Cagnazzi was chosen to recieve one of only 69 reintroduced COPO Camaros from Chevy, and is teaming up with Berger once again to race this great American Classic.
The Chevy Camaro is no stranger to rich tradition, and is one of the most classic and collectable American automobiles of all time. While variations and modifications are not uncommon throughout Camaro's thirty year history, none is more elusive, rare, or powerful than the fabled 1969 COPO Camaro.
Legend has it, these iconic babies were built in 1969 during the height of the Muscle Car revolution. Fred Gibb, a Chevy dealer and race car driver in Illinois, was looking for a way to beat his hulked-up Ford and Dodge competitors on the AHRA drag racing circuit, but due to GM size regulations, couldn't put a big enough engine in his Camaro. Happening to have close contacts with GM's vice president and major Camaro enthusiast Pete Estes at the time, and happening to own a dealership and be involved heavily with the racing circuit, Gibb found a loophole that would allow him to order a special fleet of Camaros with 427 (ZL1) Corvette engines, without having to wait the months and months it would take to have them production-approved through GM (if they even were). Through a procedure internally known as Central Office Production Order, normally used for fleet vehicles like trucks or police cars, Gibb was able to order 50 custom-built Camaros tailored for drag racing, and loud, nasty, hardcore speed. Thus was the '69 COPO Camaro born.
What they recieved was the most powerful automobile Detroit had ever built.
But of course, while the car was kicking ass all over the racetracks and landing Chevrolet right up there with the 428 Cobra Mustang and Hemi Cuda in the ranks of muscle car infamy, the cost of the vehicles was way too high for Fred Gibb Chevrolet to sell any of them, and they ended up subject to theft and being stripped for parts. Eventually, Gibbs lost track of his Cameros, and they vanished in to all corners of the country. Since then, almost all of the origional 50 have since been located, and much rumor and (of course) success on the racetrack have made these special Camaros irreplacable and much sought after in the collecting community.
And now Berger is pleased to announce it's first attempt at recreating this institution with the 2012 COPO Camaro, paired with the expertise of Vincent Cagnazzi and champion racer Dave Connoly should be dominating the drag strip later this year.
We're all waiting with baited breath to see this baby cross our showroom floor, and even more thrilled to watch this mad racing machine in action. More info to come on the new COPO Camaro, stay tuned!