Chevy Finance Department in Grand Rapids, MI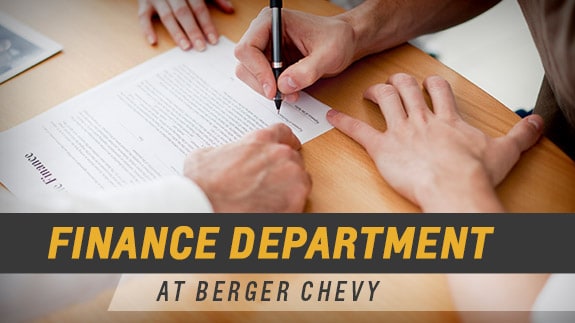 Finding the perfect vehicle is a breeze at Berger Chevrolet, the premier Chevrolet dealership in Grand Rapids, Michigan. While picking out the perfect vehicle is easy, finding a way to pay for it can be a little more difficult. Fortunately, our team of experts will work with financial institutions on your behalf to ensure you get the best deal possible.
Our financial team will help you weigh your options and answer all of your questions, whether it's about credit scores, loan length, or interest rates. There are no "dumb questions" at Berger Chevy! We want to make sure you understand the deal you're getting. If you aren't sure what the difference between buying and leasing is, ask away! We're here to help.
Getting financing can be difficult, but we don't stop working until we've gotten you the best deal possible. Whether you choose to finance through the dealership or another lender, we're on your side every step of the way. We'll cover any special programs, rebates, and financing options to ensure that you can make an informed decision about your next vehicle.
We strive to ensure that everyone drives away satisfied with their new vehicle. Come enjoy the premier experience offered here at Berger Chevy, where we treat every customer with the respect they deserve.
Meet our finance team: