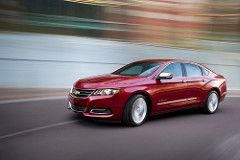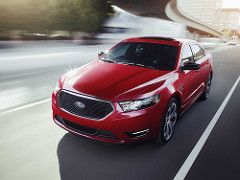 Chevrolet Impala                                                         Ford Taurus
2018

 

Chevrolet

 

Impala

 vs. Ford Taurus
The Chevrolet Impala is an American classic, and the 2018 model year takes this sedan to an entirely new level. With one-of-a-kind looks, the latest gadgets, and fuel-sipping yet powerful engine, the Impala is truly well-rounded. When compared to its competitors-including the 2017 Ford Taurus-there are a few areas where the Impala especially stands out.
Fuel Economy. Both the Impala and the Taurus are relatively the same size. They are both classified as large cars by the EPA, and they both seat five people comfortably. However, you pay for that size in the Ford Taurus in fuel costs. While the Taurus gets 16/27 (city/hwy) mpg*, the Chevrolet Impala gets up to 19/30 mpg*. Over time, that difference can add up.
Design. Design is hard to measure objectively, but one thing the experts at The Car Connection notice is that the Ford Taurus "feels smaller inside and its controls are dated." The Impala is modern, sleek, and updated, offering a spacious and comfortable interior as well as the latest high-tech features. This is perhaps another reason the editors at The Car Connection gave the Impala a 6.6 rating while the Taurus only manages a 5.2 rating.
Visit Berger Chevrolet to see the 2018 Chevrolet Impala in person. You can experience the powerful engine and thrilling ride, the roomy and convenient interior, and the up-to-date features. Few vehicles truly compare to the Chevrolet Impala.
*EPA estimates only. Actual mileage may vary.