Body Shop & Collision Repair Center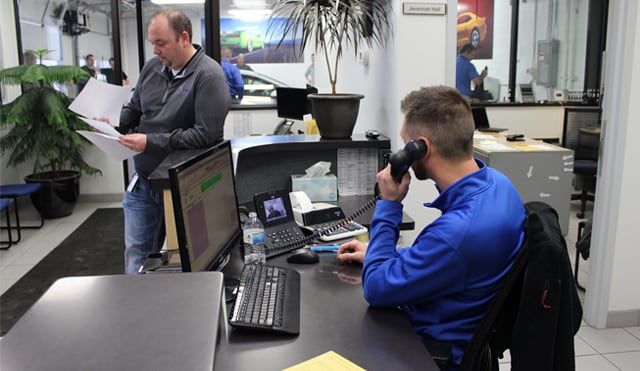 Collision Repair in Grand Rapids, Michigan
If you're in the Grand Rapids, Michigan area and you need to repair your vehicle after a collision, the Berger Chevrolet Collision Center is here to help. We work with all makes and models, so you don't have to worry about bringing in the "right" kind of car. Our fully-equipped auto repair shop has everything we need to repair your vehicle on site. We also offer a selection of loaner vehicles and work closely with insurance companies to get your car as close to like-new status as possible.
When you need your vehicle repaired after a collision, it's important to take it to a dealer's auto repair shop rather than an independent garage. Why? One of the biggest reasons is because dealership auto repair shop employees are regulated by the manufacturer, which requires them to go through ongoing training and use exclusive equipment. Also, because these technicians are affiliated with a specific brand, the workers will have access to information only that manufacturer is aware of.
When your vehicle requires immediate body repair after a vehicle collision, you can contact one of our body shop specialists by calling (616) 949-5466. You can also request service by emailing us at bodyshop@bergerchevy.com. Stop in and visit us at 2525 28th St SE and experience why it's always better at Berger Chevrolet!
How do I Rent a Car From Berger Chevrolet?
Looking to rent a car while your vehicle is in our collision center? Berger Chevrolet offers the latest model Chevy, making it a rental experience superior to the competition! Whether your rental needs are for business or personal use, Berger Chevrolet car rentals provide the quality rental  experience only available at Berger Chevrolet. Berger also offers loaner vehicles for fleet and commercial use.