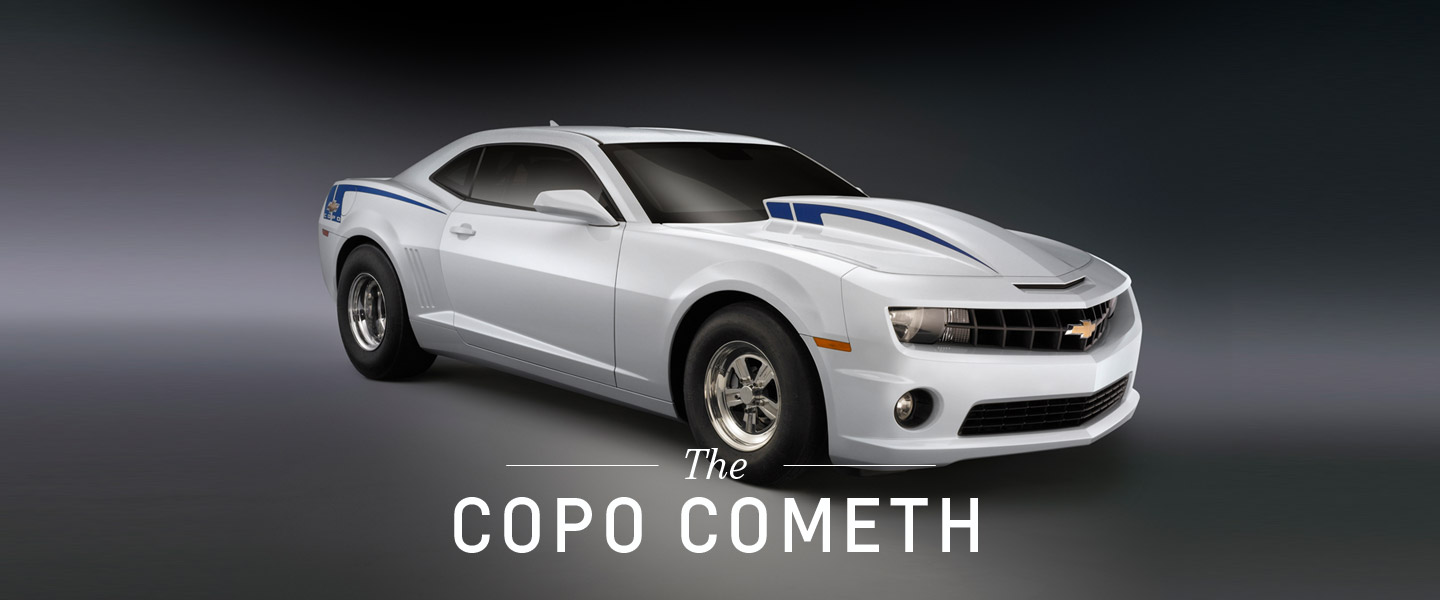 There's been a lot of talk about the forthcoming Chevy Camaro ZL1, but, there's a new Camaro concept in the gullwings that warrants attention. Calling upon a bygone era when Chevy could sneak a high-performance variant past the powers that be at GM, straight into discerning auto connoisseurs' hands, it's called the COPO (Central Officer Production Order) Camaro. However, this highly-advanced model, designed to meet the stringent codes outlined by the NHRA Stock Eliminator drag racing competition, won't go unnoticed.
That's what makes Chevy's latest concept, the COPO Camaro, so exciting.... Camaros have always had an irresistible edge, begging to be driven beyond the posted limit. But, different from its siblings (i.e., the SS or forthcoming ZL1), the COPO Camaro is specially designed for legitimate drag racing.
Abiding by stringent NHRA Stock Eliminator specifications, the concept recently debuted at SEMA. There, Chevy unveiled provisions for two engine variants, which means the American automaker plans for the innovative Camaro to compete in two different classes: A stock and AA stock.
Of course, power is only one part of the equation, when you're striving for success in the area of officiated drag racing. The other components are control, driving dynamics and safety. Starting with 427- and 327-hp engines, Chevy has all four areas covered...
To keep drivers safe in the event of a high-speed crash, or rollover, Chevy has engineered the new COPO Camaro concept with a high-strength roll cage. To help drivers stop on a dime, Chevy has integrated lightweight racing brakes with standard line lock. And, to provide the tightest handling possible, they added coil-over front suspension with adjustable struts and custom rear suspension...You get the idea.
Interested in learning more? Stay tuned. Berger Chevrolet, located at 2525 28th St SE Grand Rapids, MI 49512 promises to let you know as soon as any more details (i.e. production ETA and availability) become available. In the mean time, remember you can always explore our constantly evolving new Chevrolet model inventory online.
Source: 1 http://www.autoblog.com/2011/10/31/chevrolet-copo-camaro-concept-lives-life-a-quarter-mile-at-a-tim/