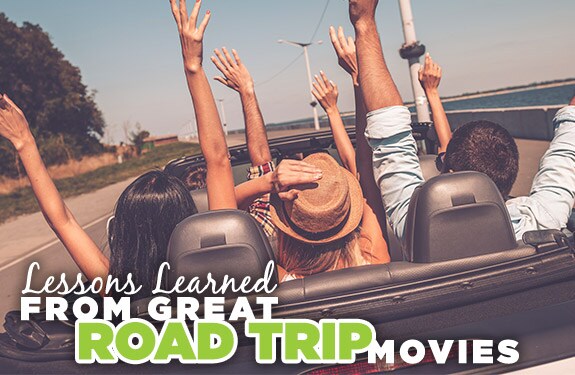 There is a right way and a wrong way to do anything. Just look at what can learn from these great road trip movies!
Rule # 1 - Follow all traffic signs.
In Planes, Trains and Automobiles, two men find themselves traveling in close quarters; one of them enthusiastically, the other as a matter of necessity. Gut-busting hijinx ensue, including a scene where John Candy drives the wrong way down an interstate.
Rule # 2 - Stay on the road at all times.
Thelma and Louise is one of the most iconic road trip movies of all time. At some point, the two leads decide to take the road less traveled. Of course, their divergence is deliberate and tragic.
Rule # 3 - Know your travel mates.
In Rain Man, Tom Cruise's character, Charlie, is driving cross country, from Cincinnati to Los Angeles, with his autistic brother, Raymond, whom he just met. Charlie struggles with caring for his brother. Now most of you probably aren't quite as impatient and self-absorbed as Charlie but it's still always a good idea to know your travel mates before you head out.
Sure, movies are there for our entertainment. But they can also be quite educational! Just look at some of the things we can learn from these great road trip movies.
If you're itching to go on a road trip, visit
Berger Chevy
to get the right road-tripping car for your journey!