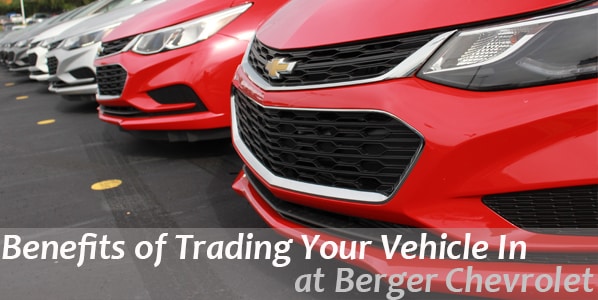 It's easy and convenient
Simple 3-step process: 1. Take your car to the dealer. 2. Dealer makes you an offer. 3. You put that money towards a new car.
Drive in with the old, and drive out with the new. There is no unwanted hassle for you; we'll take care of all of that!
It's possible even when you still owe money on your current vehicle's loan
If you're upside-down on your car loan, trading in your vehicle can help you get your balance rolled over into the next loan or lease. Our
Finance Department
is prepared to assist you in any loan transfers or loan approval you need in order to get you into a nicer, newer vehicle.
Chevrolet offers and incentives
Every month, Chevrolet pushes certain vehicles in order to increase the sales of that vehicle nationwide. This includes 0% financing, Truck Month, cash back, and vehicle lease offers. On top of Chevrolet incentives, Berger Chevrolet in Grand Rapids offers additional savings to our customers with our
Berger Sales Event
, which you can learn more about
here
!
Eliminate the unwanted costs & repairs
Trading in your vehicle before it gets too old allows you to better avoid the costs of wear and tear. Even if you've taken great care of your vehicle, some wear and tear repairs are almost inevitable. Trade in your vehicle for a newer model to avoid unwanted repair costs and other inconveniences due to vehicle wear and tear.
Plus, when you trade in for a vehicle upgrade, you have less worries about future vehicle breakdowns. Trips to the mechanic shop can become strenuous and, quite frankly, unnecessary.
Service Center you can rely on
When you trade your vehicle in at a dealership and upgrade to a different model, you also get the peace of mind knowing that you have Certified Service Technicians available whenever you need them. The Certified Service Techs at Berger Chevrolet are continually taking training courses and tests in order to stay up to date on the in's and out's of your vehicle. Chevrolet monitors our dealership's Service Department and requires our team to be prepared and equipped to handle all types of vehicle issues. Trading in your vehicle at a dealership allows you to have a dedicated
Service Department
that you can depend on!
Technology keeps evolving
The newer vehicle models available at Berger Chevrolet are capable of so much, including 4G LTE WiFi, lane assistance, and backup cameras. As technology evolves, so do the vehicle safety features. Trading in your old vehicle and buying newer allows you to feel safer and more secure getting from point A to point B.
Trade-In, Trade-Up Program
Berger Chevrolet has a
Trade-In, Trade-Up Program
available where we give you top dollar for your vehicle trade in! Whether you're looking to get out of a 1999 Chevy Car or a 2015 GMC Truck, Berger Chevrolet's Vehicle Trade-In, Trade-Up Program will give you more money for your vehicle – that's the Berger Best Price Guarantee! Learn more about our Trade-In, Trade-Up Program by checking out our
website
or by calling Berger Chevrolet at (616) 949-5200.