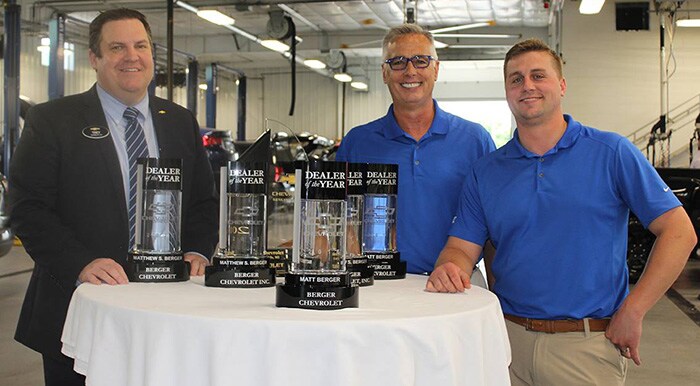 Last week, Berger Chevrolet formally celebrated our 7th Dealer of the Year Award! Matt Berger and the dedicated team of employees at Berger Chevrolet have worked vigorously to achieve such a high honor. In 2016, Berger Chevrolet's Standards for Excellence led us to receive our seventh Dealer of the Year Award.
Accompanied by many members from General Motors, 260 Berger Chevy employees, friends and family members, Matt Berger was presented the 2016 Dealer of the Year Award. This award is only given to the top 2% of dealers in the Nation. With humility and gratitude, Matt Berger accepted this award while thanking God, his family, our customers, and the employees, who truly are Berger Chevrolet.
The 2016 Dealer of the Year Award provides Chevrolet dealers the opportunity to be among the top dealers in the Nation! Of the 3,000+ Chevrolet dealers in America, only 50 are awarded Dealer of the Year, placing Berger Chevrolet among the top 2% of Chevrolet dealers in the Nation.
Since the founding of Berger Chevrolet in 1925, the Berger family has been dedicated to Automotive Excellence. From our humble beginnings to enduring Great Depression and Recession, Berger Chevrolet has consistently strived to exceed industry standards and really grow to become Grand Rapids'
number one Chevrolet dealer.
We can't say 'thank you' enough to all of our dedicated customers and employees who make Berger Chevrolet who we are. Every department at our dealership works hand-in-hand towards the same goal, making Berger Chevrolet a great place to be a part of.
Here's to making 2017 another award-winning year!