Over the last seventeen years, Jon Comstock has been an essential member of the Berger Chevrolet team. When Jon first started his career at Berger Chevrolet, he was the only "computer guy". Now, Jon manages a team of IT employees, "building a bigger network within the dealership than I ever thought possible", said Jon. Jon heavily studies security to keep our employees safe and the systems working properly. Through advanced technology and network security, Jon and the IT team affect every process in the dealership.
Outside of work, Jon keeps himself busy with different activities and hobbies including being an InfraGard liaison for the FBI cyber security, spending time on the lake and woodworking.
A few years ago, a terrible ice storm hit West Michigan, causing damage to a 100+ year old tree, which caused damage to Jon and Vicki's home. After rebuilding the damaged part of the house, the tree had to be taken down. After seeing the log, Jon's son-in-law, Mike, thought it would make a perfect farm table for his home. Jon had wanted to preserve the tree. "You can have it on one condition: I get to build the table", Jon told Mike. Jon's wife, Vicki, offered to pay for the saw mill and, thus, the story takes flight.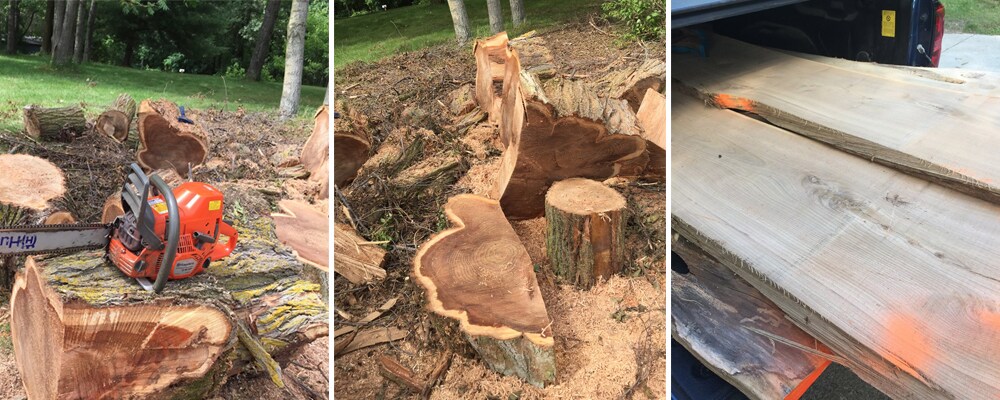 After cutting down the tree, Mike and Jon loaded it onto the trailer and drove to the saw mill. After arriving at the saw mill, they realized that no workers there, which meant no power equipment was available. Mike and Jon had to think outside the box to get the log off the trailer and onto the ground. As Jon put it, "With Chevy power and a gas pedal, we pulled that log right off of there!"
After a few weeks at the saw mill and nearly a year of drying in the garage, the wood boards were finally ready to become a table. Jon hand planed the wood, smoothed the sharp edges whilst leaving the natural edge as much as possible, and did the finishing with Tung oil. In a lot of Jon's woodwork projects, he carves a cross or heart. "Knowing Mike and Carrie's faith, I knew they would enjoy the cross", noted Jon. Now, Jon and his wife Vicki get to enjoy quality family time around the table every month when the visit their grandkids.
The making of this table was a team effort and Jon is eternally grateful for the support he received. Jon would like to say a special thank you to a few people who helped bring this project to fruition. Thank you to Mike and Rob for helping cutting down the tree. Thanks to Jeff and Matt for helping on delivery day. And a very special thank you to his wife, Vicki! Vicki paid for the saw mill, endured the danger of it all, took care of the crew.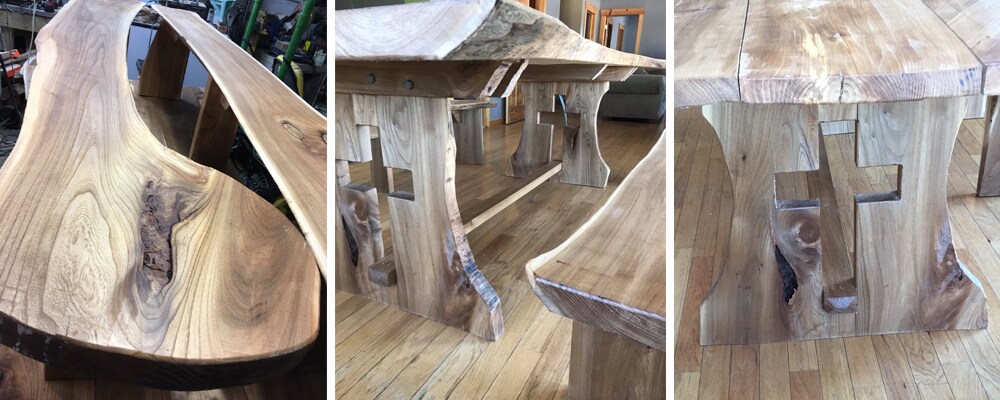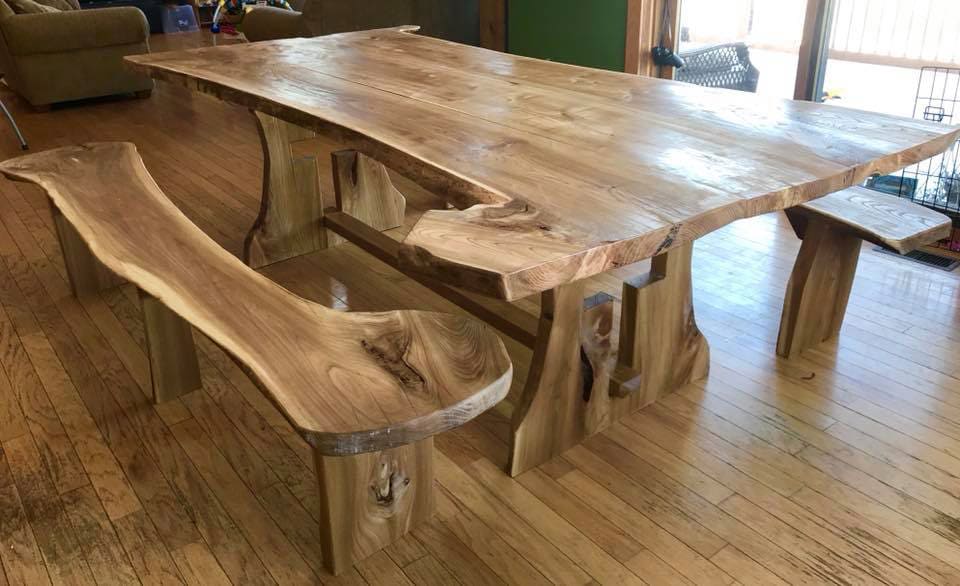 ?