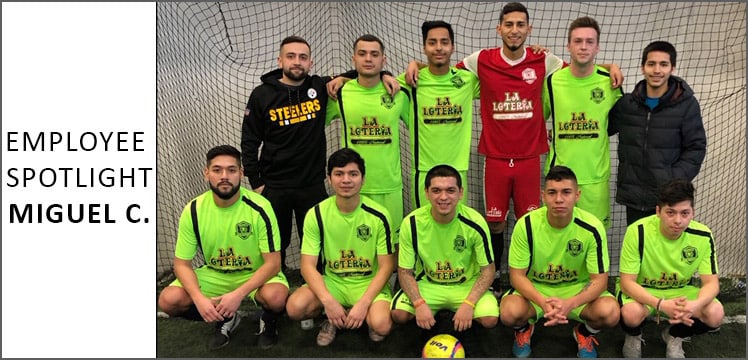 Miguel (pictured in red) has been an all-star addition to our team since he joined as a Pre-Owned Sales Consultant last year!
When he's not making your car-dreams come true, you can find Miguel on the soccer field. Miguel founded the soccer team Atlético san Pancho.
"Currently, we play in La Raza in first division indoor.
Outdoor we compete in La Liga Hispana (Hispanic league) which is by far the most competitive league in the area. The 2 years since I've established the team, we've finished in first place in the table and have made it to playoffs both times. First year lost in the finals. Second year lost in quarterfinals." - Miguel
When we asked about the team name Atlético san Pancho, Miguel explained that he got it from a movie about a bunch of kids from a small town in Mexico. They didn't have much, but they did have a soccer field in the middle of their town - made of dirt. The movie tells a story of these kids as they begin to love and learn the game of soccer. "One day a former professional soccer player moves into that town and starts a team for all the kids", Miguel goes on, "At first they weren't doing so hot. Then they got things together and went on a winning streak! Made it all the way to the finals that was held in the biggest stadium in México, El stadio Azteca in Mexico City. They go on to win the game in the final minutes".
Miguel made the connection to this movie because a lot of guys on the team grew up in the same neighborhood and soccer was something they always shared a love for.
Miguel is the founder, coach, captain, coordinator AND player. His team Atlético san Pancho was recently featured in El Vocero Hispano newspaper.
If you're looking for a pre-owned vehicle, contact Miguel and our team at Berger Chevrolet to make your car-dreams come true! (616) 575-9612
"It's always better at Berger" www.bergerchevy.com