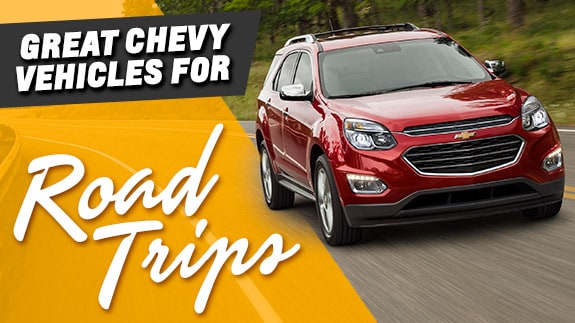 Whether you're driving across the country or you'd simply like to take a day trip, the vehicle you choose to drive will definitely impact the ride. Most drivers prefer plenty of space, excellent fuel economy, and infotainment options to keep everyone entertained, which is why they choose Chevrolet. Plus, Chevy models come with trusted quality and durability, reducing the risk of a breakdown. Read on to learn more about the many Chevrolet models that are perfect for your next road trip.
2017 Chevy Impala. The Impala is a classic Chevy sedan, offering a roomy and quiet ride. This car is perfect for road trips because it gives you space for up to five passengers with plenty of legroom and cargo space to spare. The 2017 model year is also designed with improved acoustics and refinement, ensuring a quiet ride that everyone can enjoy. Consumer Reports even mentioned this model as the Best Vehicle for Family Road Trips because it's spacious, comfortable ride keeps everyone happy.
2017 Chevy Traverse. The Traverse is ideal for separate reasons. This SUV has up to 116 cubic ft of cargo space when properly equipped, making this model perfect for those who need to haul equipment on their trip. If you're camping, fishing, or biking, the Traverse may be the model for you. This advanced model also comes with next-generation infotainment like Chevrolet MyLink and the myChevrolet App, which allow you to connect your smartphone to your Traverse. This is perfect in case you lock your keys out or you simply want to warm up the engine.
2017 Chevy Volt. The Volt is an obvious choice for a road trip thanks to its efficiency. This hybrid-electric car has a range of 420 miles when fully charged, as well as up to 53 miles on pure electricity. That means you can go over 1,000 miles between fill-ups. The latest Volt also comes with a 240-volt charger for quickly refilling the battery, while a Top Safety Pick+ rating provides added peace of mind.
2017 Chevy Equinox. Finally, the 2017 Equinox is a fuel-efficient SUV, so you get a bit of everything. This model has standard Multi-Flex® sliding seats to allow for up to 63.7 cubic feet of interior volume. The standard 2.4-liter engine gets up to 31 highway mpg* thanks to an Eco Mode feature, while the optional 3.6-liter engine give you up to 3,500 pounds in towing and a best-in-class 301 horsepower. Plus, with smartphone connectivity, you can keep everyone entertained.
The Impala, Traverse, Volt, and Equinox are each perfect for long trips, whether you're looking for a high-tech SUV, hybrid car, or spacious sedan. Stop by Berger Chevrolet to learn more about each model. You can test drive these vehicles before your next trip to Lake Michigan (or beyond!). Either way, you'll be glad you're behind the wheel of a Chevy.
*EPA estimate. Actual mileage may vary.
Make an Inquiry