Customer Gets $5000 Over KBB for Trade
Berger Chevrolet customer, Emily, received $5,000 over Kelley Blue Book for her trade-in. Berger Chevy was able to get Emily into a Pre-Owned Buick Encore by giving her $5000 over KBB from her old car. Emily is just one of many customers who have taken advantage of this HUGE sales event. See what Emily had to saw about us on Dealer Rater. To learn how YOU can get $5,000 over KBB for your trade-in, click here!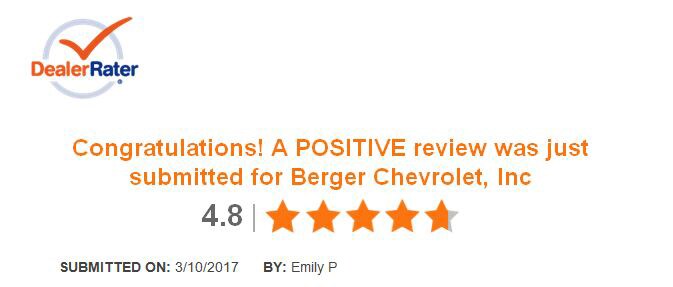 Fantastic!
I went to Berger Chevrolet after searching online for a good place to look for a car. I was not disappointed. I had an awful car. It had a broken windshield, a dent in the side door and about a million other problems. I also still owed 6000$ for it. I really needed a new car that would be safe for my family to drive. I already had a car in mind after doing some extensive research on Crossovers. I Knew i wanted a Buick Encore. I went in and spoke to Duane and i was honest about everything i could think of about my car. I gave him all my information and he tried to see what they could do in my situation. He came back with a smile on his face and asked me what color i wanted out of the 3 they had. Then he said, that Berger has a special going on select cars and that the car i wanted had this special. The completely paid off my old car without adding to the new car's loan. I have gone to countless dealers to see what they could do and Berger is the only one that was willing to pay it off completely. I would recommend going to Berger and speaking to Duane to anyone. He made it super easy and he does a wonderful job. I could not have been more grateful for their kindness.
Employees dealt with