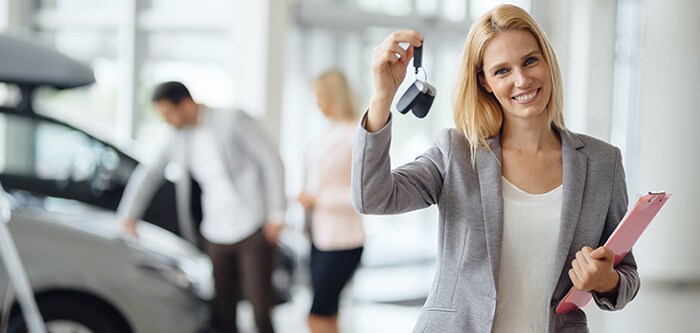 Top Tips for Buying or Leasing Your First Vehicle
Overview
If you're looking to buy or lease your first car, consider putting your trust in our Chevrolet dealership in Grand Rapids, MI. If you want to know what to expect during the process, enjoy these tips for first-time car buyers to give you the confidence you need to purchase your first new Chevrolet vehicle with us!
Create a Realistic Budget
When looking to buy or lease a new Chevrolet, you first need to sit down and create a realistic budget. Driving a new car is exciting, but it also comes with more responsibility since you need to make monthly auto lease or loan payments. We suggest using a spreadsheet to factor in your current expenses, as well as the additional costs of owning a Chevy such as insurance, fuel, taxes, monthly payments and maintenance.

Determine What You Need in a Car
Once your budget is defined, avoid the common pitfall of buying a new car to satisfy your current needs. Your Chevrolet Malibu, Impala or Colorado will be a part of your life for a long time, so be sure to pick a Chevy truck, SUV or sedan that'll suit your needs for years to come. Figure out which features are important to you so you'll know what you should buy or lease, but we recommend focusing on safety features, as you can't put a price on peace of mind.
Do Your Research
Doing your research is arguably the most important part of the car-buying process. When shopping for a new Chevy, there's no shortage of award-winning models to choose from. Whether that's the eco-friendly Chevy Bolt EV or the versatile Chevy Traverse, you want to learn everything you can before signing on the dotted line.
You also want to research and determine whether buying or leasing your new Chevrolet is the best option for you. Typically, buying a new Chevrolet is perfect for those who can afford a higher monthly payment and plan on driving over 15,000 miles a year. Leasing, on the other hand, benefits those who want lower monthly payments and anticipate driving between 8,000 to 12,000 miles a year.  
Schedule a Test-Drive
We can't stress the importance of scheduling a test-drive enough. We've found that even if you love your vehicle's design, fuel economy and technology features, nothing compares to experiencing them for yourself on the open road. At our Chevy dealership, you'll enjoy a stress-free car-buying experience with a sales person who is friendly and transparent!
Negotiate and Finance
Once you've had a successful test-drive and can say with confidence that the Chevy you've selected is the right car for you, it's time to discuss financing options with our Chevrolet finance team. Because you're a first-time car buyer with presumably little or no credit, you'll probably need someone to co-sign on your loan or take the loan out in their name. To make sure you're paying a fair price, check out Kelley Blue Book Fair Purchase Price to see what people in your area have already paid for the Chevrolet you're looking to buy.
Drive Home in Your New Chevrolet!
Congratulations! You've just bought your first car. We hope our tips for first-time car buyers were helpful, and we look forward to working with you soon at Berger Chevrolet!
Make an Inquiry