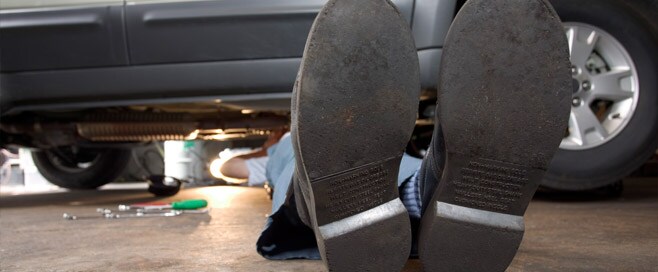 When it comes to
servicing
your vehicle, the
what
,
when
, and
why
can be confusing. In an effort to help our customers be fully-informed, we've come up with a list of frequently asked questions (and their answers) about car maintenance and service.
How often should I change my oil?
As a general rule, regular oil should be changed every 3,000 miles, and synthetic oil should be changed every 5,000 miles. Check your owner's manual though, as every car is different. It's a good idea to get in the habit of checking your oil every month to make sure it's clean and the levels aren't too low.
How often should I check fluids?
It's a good idea to check your fluids (like antifreeze, power steering fluid, and brake fluid) once a month. 
What should my tire pressure be?
Correct tire pressure is integral to the efficiency and overall performance of your car. Check your tire's side or the inside of your car's door jamb for the manufacturers suggested PSI (pounds per square inch). Learn more about tires
here
. 
How long do spark plugs last?
This depends on a number of factors, namely how old your car is. Cars built more than 15 years ago likely have standard plugs with a life expectancy of 12,000-15,000 miles. Vehicles five to 15 years old likely are equipped with platinum-tipped spark plugs, capable of lasting about 30,000 miles. Finally, some cars model year 2001 and newer come with iridium-tipped plugs, with last 90,000 miles or more. 
How often should I change my windshield wiper blades?
Pay attention to your windshield wiper blade's performance. As soon as they begin to streak or don't clear the windshield fully, it's time to have them replaced. Experts recommend replacing them a minimum of once a year, more if the car is parked outside for extended periods of time. 
Do I have to take my car to the dealership for service?
Remember, all work covered under warranty and service recalls must be performed at a dealership. We recommend having all service completed here at the dealership to ensure genuine manufacturer parts are used and installed correctly. 
If you have more questions,
contact us
at Berger Chevrolet today. Ready to get your car serviced?
Schedule an appointment
with our convenient online form. We look forward to seeing you soon!
Make an Inquiry