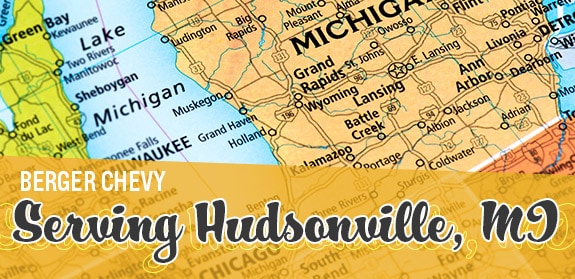 Berger Chevy is Proud to Serve Hudsonville, MI
Here at Berger Chevy, we are proud to call Michigan home, and we love serving all the residents in the greater Grand Rapids area, including our neighbors and friends from Hudsonville.
Hudsonville's modern history dates back to 1873 when the city was first planted. It got its name from Homer E. Hudson, one of the area's earliest settlers. He moved here in 1848 and started growing a nursery a fruit trees, which was the start of the many orchards throughout Michigan. Other early settlers included the Hughes family, which owned the land that is now called Hughes Park.
Since then, the city has grown steadily, yet still remains a small community with fewer than 10,000 residents. Every summer in August, residents celebrate all that Hudsonville offers with the Hudsonville Community Fair. This week-long fair draws crowds of more than 80,000.
White Flame Brewing Company and the Hudsonville Winery
For more day-to-day activities, Hudsonville won't disappoint. For those who prefer locally-brewed beverages, you can try the White Flame Brewing Company. They have a wide selection of local beers and great pub-style food. You can also try the Hudsonville Winery, which produces its own wines and beers.
Hudsonville Nature Center
If the outdoors is calling to you, be sure to visit the Hudsonville Nature Center. Walk along the trails and see beautiful wildflowers, do some bird watching, and enjoy the peace that nature brings.
Action Wake Park
One of Hudsonville's newest and perhaps most adventurous attractions is Action Wake Park. Here, you can experience wakeboarding without needing a boat. The Park uses a cable system to pull you across the water and across jumps. They have a variety of speeds and courses available for beginners to advanced riders.
For a fun outing that the whole family will enjoy, take in a game or two of bowling at Hudsonville Lanes. The staff is known for being exceptionally friendly and the facilities are clean and well-kept. The next time you're shopping for a new or used car in the Hudsonville area, come visit us at Berger Chevy!