Tire Pressure Monitoring System's (TPMS) purpose is to warn you that at least one or more of your tires are significantly under-inflated, which may cause unsafe driving conditions. If your vehicle's Tire Pressure Monitoring System has warned you about an under-inflated tire, then you'll recognize this yellow symbol that illuminates on your vehicle's dash board in the shape of a tire cross section with a centralized exclamation point.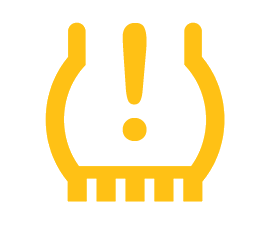 On most newer makes and models, the symbol can depict the exact tire that is under-inflated. This symbol will remain lit up until your Tire Pressure Monitoring System detects that the tire has been inflated to your vehicle's recommended tire pressure. 
The yellow tire pressure symbol is not to be taken lightly. Driving with under-inflated tires truly can affect several different systems in your vehicle including suspension, steering, fuel-consumption and braking ability. Along with negatively affecting these vehicle systems, driving on an under-inflated tire can also lead to premature tire ware, tread separation and blowouts. 
The system uses the body control module (BCM), driver information center, instrument cluster, remote control door lock receiver (RCDLR), and a radio frequency (RF) transmitting pressure sensor in each wheel/tire assembly, and the serial data circuit to perform the system functions. Each sensor has an internal power supply with an approximate 10-year service life. For older makes and models, the lifespan of the TPMS is typically five to six years. 
So, what happens when your Tire Pressure Monitoring Sensor battery dies? 
Due to battery life, you may need to replace your Tire Pressure Monitoring System batteries. Replacing the TPMS batteries is imperative to ensure you are not driving on under-inflated tires. When a battery dies or fails, the sensor no longer provides protection to the vehicle's driver and passengers. 
The TPMS on certain vehicles will deliver a warning such as, "Service Tire Monitoring System". When a warning like this appears, your batteries are dying and it is time to replace your Tire Pressure Monitoring System. When a TPMS sensor battery dies, you can't just swop the batteries out as the batteries are entombed. Replacing the TPMS includes replacing the batteries, pressure sensor, transmitter and fill valve for your vehicle's tire. 
At Berger Chevrolet Service Department, our Certified Service Technicians are fully equipped to properly service your vehicle's Tire Pressure Monitoring System. 
For further information on these systems,
click here
. 
~ People also viewed ~