Chevrolet Cruze Overview
The Chevrolet Cruze is a compact sedan produced by GM that was launched in 2011. It was introduced by GM in 2008, carrying the "J300" internal designation, which was a replacement for the Chevrolet Cobalt and Deawoo Lacetti. Its advanced technology and updated features were a significant improvement over the Cobalt. With a conservative style, high quality materials and roomy interior, the Cruze has become one of the highest regarded sedans in its class. 
The Cruze's body structure is 65 percent high-strength steel. Its steering is powered electricity to save on gas and the ride quality in the Cruze is outstanding. It provides a very balanced, smooth ride. The Chevrolet Cruze might be the most level, quiet compact offered. The 2011 and 2012 Cruze models are available in two different engine options: A 1.8-liter four-cylinder and 1.4-liter four-cylinder with a turbocharger. The 2013 Chevrolet Cruze is offered with a choice of two four-cylinder engines. Both manual and automatic have six speed transmissions. The Chevy Cruze also presents some of the best EPA mileage ratings among its competition. The estimated EPA around is 24 mpg city and 36 mpg highway for a combined median of 28. The Cruze Eco earns 28 mpg city, 42 mpg highway and 33 mpg combined. 
The Chevy Cruze has moved Chevrolet to the top in the incredibly competitive compact sedan market. Top of the line features, excellent gas mileage and exceptional ride-handling make the Cruze a superior choice for those interested in purchasing a quality vehicle.
2015 Chevrolet Cruze:
The 2015 Chevy Cruze received a brief facelift and refresh in preparation for an upcoming redesign. Chevrolet announced the 2016 Chevrolet Cruze will be all new and began making styling and technology changes to this model year in anticipation for the new Cruze.
The 2015 Cruze shows off a new upper and lower grille that is reminiscent of the chiseled grille on the all new Impala. Below the grille you'll notice a sleek new lower fascia complete with LED running lights. The more modern front end styling makes a bold statement that we'll continue to see on future Chevrolet sedans. 
Inside the 2015 Cruze sedan you'll find a variety of changes to help enhance comfort and connectivity. The Cruze is the latest Chevrolet to receive the available built-in 4G LTE connectivity package which turns your Cruze into a Wi-Fi hotspot on wheels. This classic sedan also comes equipped with iPhone Eyes Free integration that makes Siri your personal assistant while you're on the move. The new Cruze will even read your text messages back to you as an added feature.
In addition, the Cruze diesel moves into its second year of production with top notch fuel economy and performance coming out of the 2.0-liter 4-cylinder engine. 
2014 Chevrolet Cruze: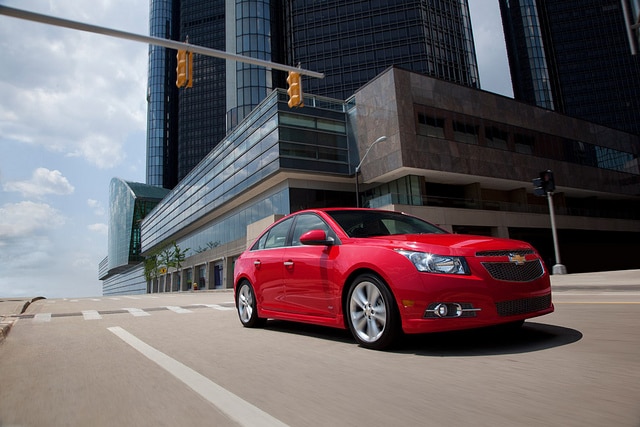 Chevrolet introduces the brand new Chevy Cruze Turbo Diesel model, a model that achieves better gas mileage than the previous Cruze ECO model. The new Turbo Diesel Chevy Cruze boasts an estimated highway driving range of 700 miles which translates to top notch fuel economy at 46 MPG highway. The Chevy Cruze Clean Turbo Diesel returns better fuel economy numbers than any other non-hybrid passenger car in America. While the fuel efficiency of the new Turbo Diesel Cruze is great, the performance numbers are even better with best-in-segment torque and horsepower.
While style changes to the 2014 Cruze were minor, the Cruze upgrade it's exterior color schemes to include Red Hot, Rainforest Green, Tungsten Metallic, and Blue Ray Metallic. It faded out similar exterior paint colors to make room for the shimmering new paint jobs.
Regardless, the 2014 Cruze will make history with the introduction of the Turbo Diesel Cruze. 
2013 Chevrolet Cruze:
For 2013, the Chevrolet Cruze gets some needed enrichments. Some of these updated features include MyLink infotainment system, blind-spot monitoring, Bluetooth streaming audio and a rearview camera. Some of the primary advantages of the 2013 Chevy Cruze include its attractive looks, smooth handling, top safety scores and fuel-efficiency. 
The Cruze comes in four different trim levels: LS, Eco, LT and LTZ. The basic LS model comes standard with features such as OnStar, 16-inch wheels, keyless entry, tilt steering, trip computer, Bluetooth and Cd/MP3 sound system with satellite radio and USB port. The Eco model gets the turbocharged engine, a leather wrapped steering wheel and touchscreen display with MyLink connectivity allowing access to Bluetooth, audio, voice control and smartphone integration. The 1LT comes with a turbocharged engine, 16-inch alloy wheels and a leather wrapped steering wheel. The next trim level up is the 2LT. In the 2LT model 17-inch wheels, four-wheel disk brakes, leather upholstery, heated seats and a 7-inch touchscreen display with MyLink connections. The Cruze LTZ add 18-inch alloy wheels, heated mirrors, automatic climate control, premium interior, rearview camera and keyless ignition and entry. Base models come with a 1.8-liter engine that makes 138 horsepower and 125 pound-feet of torque. LT, LTZ and Eco models are powered by a turbocharged 1.4-liter four-cylinder good for 138 hp and 148 lb.-ft. of torque. There's a choice of 6-speed manual or 6-speed automatic. 
The Insurance Institute for Highway Safety gave the 2013 Cruze an impressive top score of "good" in frontal-offset, side-impact and roof-strength testing. The Chevrolet Cruze is an excellent choice among compact sedans. It has a spacious interior with high quality materials inside and out. The 2013 Cruze is an attractive vehicle with a conservative style making it a solid choice among compact sedans in today market.
2012 Chevrolet Cruze:
No major changes have been made to the 2012 Chevrolet Cruze compared to last year's model. The Cruze remains the leader in the small car market, a first for Chevy. It made its debut last year and has proved to be one of the best thanks to its high quality. 
The 2012 Cruze comes with two engine options which include a 1.8-liter four-cylinder engine and a turbocharged 1.4-liter engine. The torque has been raised in 2012 models helping them boost acceleration. 
This small sedan is offered in four different trim levels: LS, Eco, LT and LTZ. The LS comes standard with OnStar, 16-inch wheels, tilt-wheel, trip computer, full power accessories and a six-speaker stereo system with CD, MP3 and satellite radio. Add Bluetooth, USB and steering wheel audio controls with a connectivity package. The Eco has similar features but it designed with fuel efficiency in mind. Features in the Eco model include lightweight alloy wheels, aerodynamic improvements and low-resistance tires. The LT consists of two subsets, the 1LT and the 2LT. The 1LT contains a turbocharged engine, color-keyed outside mirrors, leather-wrapped steering wheel and the Connectivity package. In the 2LT features such as 16-inch alloy wheels, remote start, leather upholstery, heated upholstery and sport-tuned suspension are included. The upscale Cruze LTZ add elements such as 18-inch alloy wheels, rear parking assist, keyless ignition, automatic climate control and a first-class interior. All 2012 Chevy Cruze models come with stability control, antilock brakes and front and side impact airbags. In crash testing the 2012 Cruze earned a five-star rating for overall safety. 
The Cruze gives you more miles to go with by offering the highway mileage of any gas engine in America. Updated features, great mileage and overall quality make the Cruze a top choice among its small car competition. ere were few changes made to the 2012 Chevrolet Traverse it continues to blow its competition out of the water.
2011 Chevrolet Cruze:
The all-new 2011 Chevrolet Cruze has proved to be one of GMs most successful sedans in decades. The Cruze was developed by GM centers in Europe, Asia and the United States. Launched as a 2011 model, the Cruze was made to replace the boring Chevrolet Cobalt. It offers the latest in technology and safety features. It also has great gas mileage and lots of interior space. 
The LS is powered by a 1.8-liter engine producing about 136 horsepower. The Eco, LT and LTZ come with a turbocharged 1.4-liter engine that generates 138 horsepower. Both the LS and Eco come with six-speed transmissions white others come standard with a six-speed automatic transmission. 
The 2011 Cruze is available in four main trim levels: LS, Eco, LT and LTZ. The LS model comes with OnStar, 16-inch wheels, tilt steering, trip computer and a six speaker stereo CD/MP3 player with satellite radio and an auxiliary audio jack. In the Cruze Eco you will find similar amenities, but, the Eco is optimized with fuel efficiency improvements such as aerodynamic enhancements, less weight and low-resistance tires. The LT is broke down into two subsets: the 1LT and 2LT. The 1LT Cruze comes with a turbocharged engine, chrome wheel covers and color-keyed power side view mirrors. The 2LT adds alloy wheels, remote engine start, Bluetooth, leather upholstery, heated seating, steering wheel audio controls and USB enabled audio system. Last is the LTZ which comes standard with 18-inch alloy wheels, climate control, dimming rearview mirror, rear parking assist and sport-tuned suspension. 
In governmental crash testing, the 2011 Chevrolet Cruze earned a top five-star rating in overall safety operation. The Cruze is stylishly integrated with technology and impressive performance. With more safety features than any other sedan in its class, the Cruze gives you more for everything you love at a price you can afford.