24 Hour Service Kiosk Grand Rapids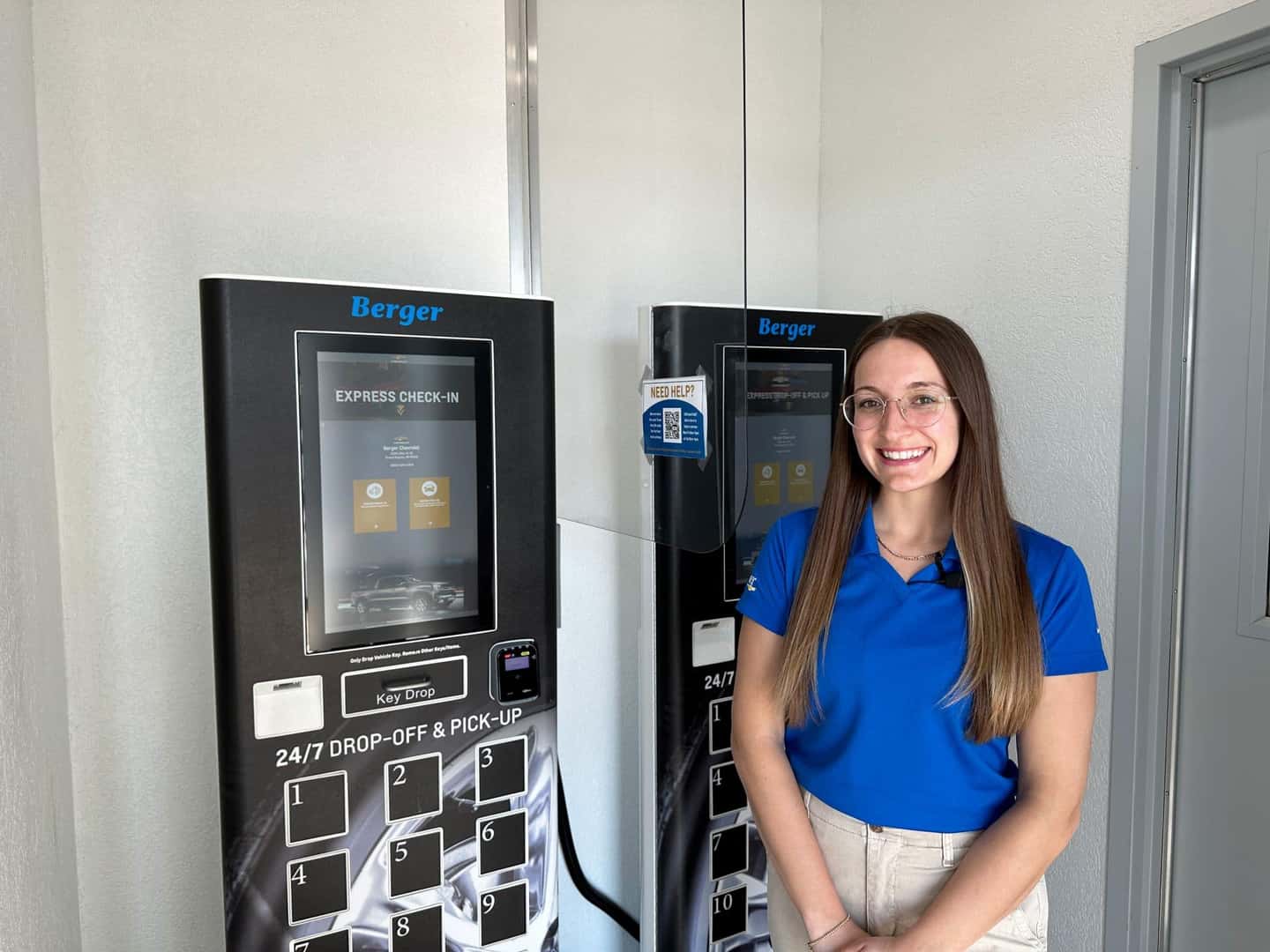 HOW DOES IT WORK?
Checking in & picking up your vehicle at Berger's Certified Service Center is easy, quick, and available 24 hours a day with our 24 Hour Contactless Service Kiosks! These Kiosks are located on the far-left side of our Service Department and are available 24/7. That's right, you can pick up or check in your vehicle before/after our business hours!
Here's How it works:
1. Park your vehicle in front of our Service Department.
2. If you are dropping off your vehicle for service select "Vehicle Check-In" on the screen.
3. Follow the prompts on the screen.
4. Place your vehicle's key in the secure drop box. Be sure to remove any personal items!
5. Your Service Advisor will communicate with you throughout the service process and notify you when your vehicle is ready for pick-up.
6. When your vehicle service is complete you can pick-up your vehicle's key from the contactless kiosk by selecting "Vehicle Pick-Up"
7. Your key will be returned to you from one of the numbered boxes!
It's as simple as that! Stop by Berger's Service Center today or schedule an appointment below.
Thanksgiving

Closed

Christmas Eve (Observed)

Closed

Christmas Day

Closed

New Year's Day

Closed
Mon - Wed

9:00 AM - 8:00 PM




Thu - Fri

9:00 AM - 6:00 PM




Sat

9:00 AM - 4:00 PM




Sun

Closed
Thanksgiving

Closed

Christmas Eve (Observed)

Closed

Christmas Day

Closed

New Years Day

Closed
Mon - Fri

7:30 AM - 5:00 PM




Sat

8:00 AM - 1:00 PM




Sun

Closed
Thanksgiving

Closed

Christmas Eve (Observed)

Closed

Christmas Day

Closed

New Years Day

Closed
Mon - Fri

8:00 AM - 5:00 PM




Sat

8:00 AM - 1:00 PM




Sun

Closed
Thanksgiving

Closed

Christmas Eve (Observed)

Closed

Christmas Day

Closed

New Years Day

Closed
Mon - Fri

8:00 AM - 5:30 PM




Sat

8:00 AM - 1:00 PM




Sun

Closed
Thanksgiving

Closed

Christmas Eve (Observed)

Closed

Christmas Day

Closed

New Years Day

Closed
Mon - Fri

8:00 AM - 5:00 PM




Sat - Sun

Closed