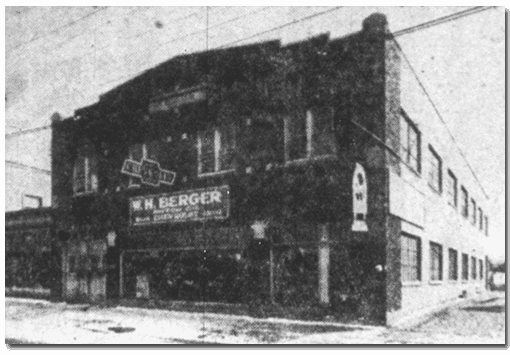 THE 1920S - STARTING UP
The story of Berger Chevrolet begins in Jenison, Michigan, with the founder, William (Bill) H. Berger II. A third-generation farmer, he sensed troubles for his vocation on the horizon and took a position at a local Chevrolet distributor in downtown GRAND RAPIDS known as Wilcox-Kuennen. He loved his new job and rose up through the ranks quickly. Seeing opportunities in the automobile industry that had dried up in agriculture, he became the Branch Manager of Wilcox-Kuennen's new East Side Branch at 1034 Wealthy Street in 1925. A year later, in August of 1926, he founded the W.H. Berger Motor Company at the same location. The building had previously belonged to Ebling & Son Blacksmiths, a business that still thrives to this day.
The first building was small with the Service Department directly above the main floor. Starting his new Chevrolet business proved to be a challenge because any kind of automobile was considered a luxury, with the horse-and-buggy being the main mode of transportation. It also didn't help that most "roads" at that time were mainly dirt or stone and smooth roads were rare. Bill Berger rose to the challenge often foregoing his own paycheck when sales were thin so he could pay his employees. His new enterprise sold around 125 cars a year and a new Chevrolet sold for about $700.
Sales picked up when Bill purchased additional property on Wealthy Street to capitalize on the growing used car business. It paid off: by the end of the decade, three or four used cars were sold for every new car that drove off the lot, a trend that would continue.