GARY KITZROW EMPLOYEE SPOTLIGHT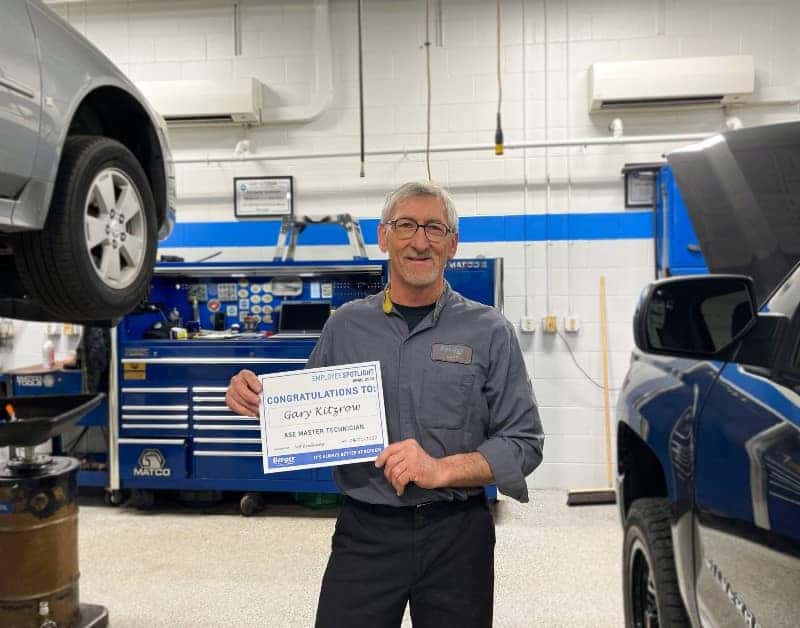 For the last four decades, Gary Kitzrow has been servicing the vehicles of West Michigan at Berger Chevrolet! You can only imagine how much has changed since 1982 when Gary joined the Berger Chevrolet team. From new faces to new buildings to new technology and everything in between, Gary has first-hand witnessed the growth of automotive and the growth of our dealership. We couldn't be more grateful to have him along for the ride!
As an ASE Certified Master Technician, Gary's expertise is on electrical, drivability, and engine repair. When he first started at Berger 40 years ago, he had recently gotten out of the Marines and was searching for a challenging role. When he came across a Service Technician position at Berger, the shoe fit! Having worked on Chevrolet vehicles before, Gary was up for the challenge. He now takes pride in giving good, quality repairs the first time.
Outside of his Master Tech title at Berger Chevrolet, Gary Kitzrow goes by many other titles as well – husband, father, and grandpa, to name a few. When asked what he is most grateful for, family rang in at the top of his list! His family consists of his wife, 2 sons, 1 daughter, 6 grandchildren and most recently 2 Gold Brien pups.
You could call Gary a man of many interests! In his free time, Gary and his wife enjoy hiking local West Michigan trails with their dogs. However, that isn't the only way they stay active. One may be surprised to learn that the two love ballroom dancing and have been doing it for years. Beyond this, he simply enjoys being with family. His favorite vacation that they've taken together was in Maui, Hawaii and he would love to go back!
Here's to 40 years at Berger, Gary! Thank you so much for all the dedication and determination you put into your work and for continuing to repair vehicles with pride. We are so grateful to have you on our team.