NICK MURRAY EMPLOYEE SPOTLIGHT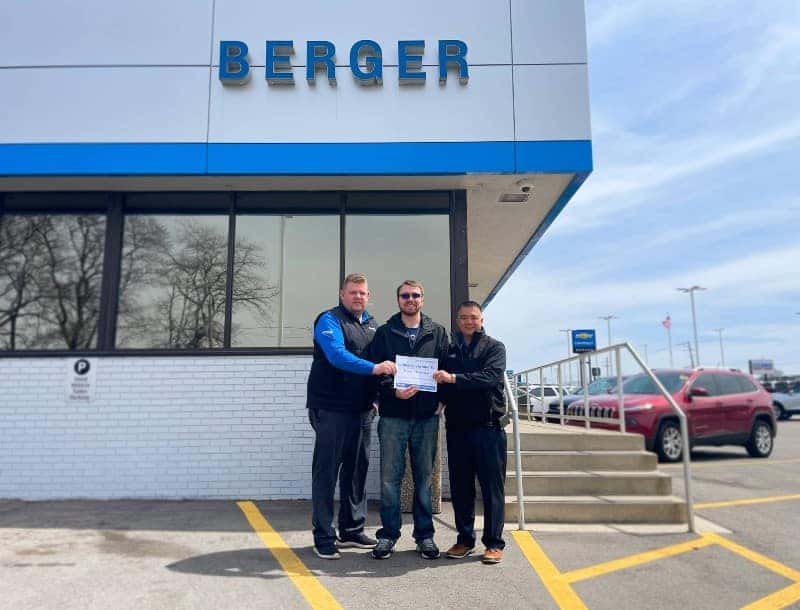 Nick Murray, our Pre-Owned Lot Coordinator Extraordinaire, has been on the Berger Team since February 2022. In his short time here, he has already made a lasting impression. Every day, Nick is not only the king of clean, making sure the lot and his station are spotless, but he also has a positive attitude that is contagious to everyone he encounters.
Having a passion for cars and the auto industry, Nick found his way to Berger and has loved it ever since! His primary duties include arranging the lot, spot washing vehicles, and shining up vehicles that are sold. When we asked him what his favorite part about his job is, he expressed that he loves getting to drive a variety of different vehicles, being outside, and organizing the lot.
Beyond loving the job, itself, Nick also loves the people he works with! In fact, one of his greatest motivators at work is being surrounded with people who have a great attitude and decide that each day is going to be a great one. And the feeling is reciprocated! The team calls him Nick "The Man" Murray because he is "always willing to lend a helping hand to his coworkers and is a breath of fresh air."
Work isn't the only time Nick finds enjoyment; he is also a man of many hobbies. In his free time, Nick loves photography as well as vlogging. His artistic vision doesn't stop there! Nick explained that his truest passion is making music. By using a variety of instruments and sounds, Nick prides himself in making songs that pair well with videos.
While Nick is grateful for many things in his life, his parents come out on top! Nick attributes them for instilling a positive attitude within him and leading by example. Because they have given so much to him, he works hard to return the favor.
His family lineage goes beyond his parents; Nick has family from the Netherlands, and he would love to visit one day to further connect with his roots – specifically, his grandmother or "Oma" as he calls her, who grew up there. While she passed away several years ago, they shared a special bond. When asked the question: If you could have dinner with one person who would it be? He said that he would take his Oma to Red Robin where they celebrated her birthday in the past.
Nick shared something that people may be surprised to learn about him. He has a disability called ASD. While this typically affects a person's social interactions, Nick takes great pride in his social skills and enjoys conversating with people, especially his coworkers!
Thank you for bringing your infectious positive energy to the Berger Team, Nick! We're grateful to have you on board.