COMMUNITY SPOTLIGHT: PUBLIC THREAD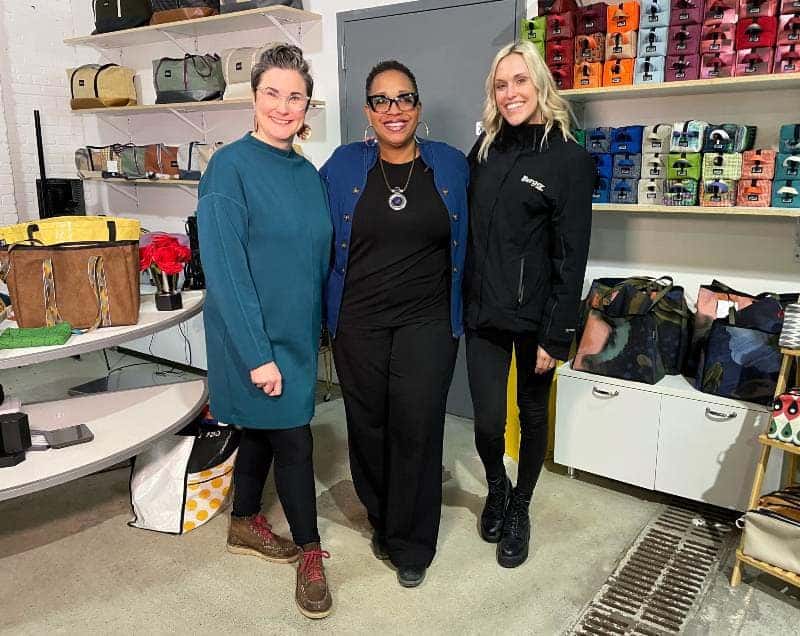 Located on the Southwest Side of Grand Rapids, Public Thread is a fashion forward retail store that uses upcycled materials to create merchandise such as bags and backpacks. Since 2016, this Michigan based company has worked to "design unique products that serve people, the planet and support living wage jobs." But how did this business come to be? What are upcycled materials? What does this have to do with Berger? Don't you worry, we have the answers!
Public Thread: How it Began
Public Thread started with a humble beginning – Janay Brower started this business in her own kitchen in Grand Rapids to give people an outlet to be creative with leftover materials while being paid a living wage; however, it quickly turned into so much more than that. They soon discovered the vast amount of the textile waste that happens within the West Michigan community and took it upon themselves to do something about it. By working with local manufacturers and obtaining leftover materials, Public Thread creates upcycled masterpieces such as reusable grocery bags, purses, backpacks and more! Their products are even featured in stores throughout Grand Rapids at Bridge Street Market, Artists Market powered by Pack Elephant at Studio Parkhop, and Fresh Thyme!
Upcycled Materials: What are They?
Because textiles are the third biggest polluter in Kent County landfills, Public Thread took it upon themselves to create usable products with textiles that would have otherwise been disposed of. Which brings us to the definition of upcycle: "To reuse (discarded material) in such a way as to create a product of higher quality or value than the original."
When you purchase from Public Thread, you're not just buying a quality product, but you're helping the environment, reducing waste, and supporting an awesome cause!
Berger's Involvement
Since 1925, Berger has been giving back to our West Michigan community in anyway we can! Over the years we have participated in breast cancer awareness month, given back to local children in need through food drives and toys for tots, supported local restaurants by buying and giving away gift cards, volunteering at Grand Rapids community gardens and much more. This is the essence of our Berger Gives Back Campaign – supporting our neighbors. When we heard about Public Thread, we fell in love with their mission, because they also give back to the community by lessening our textile waste.
About a year ago, we teamed up with FOX17's Morning Mix Series in order to give local businesses a spotlight on television. Of course, we had to give Public Thread their much-deserved time to shine by sponsoring them in this series. You can watch their segment here!
Itching to learn more about this rock-star business? Want to shop? Check out their website. If you'd like to see other local businesses we've supported and learn more about Berger Gives back you can here.